High quality Evaporator for walking in cooler cold room freezer
Product Detail
Product Tags
Ceiling type unit cooler
CSCpower unit coolers / evaporators can be widely used in various kinds of fresh-keeping and refrigeration cold-rooms..food processing workshops and logistics centers.Our compact and | reliable design can help customers make use of space maximally.When equip with low noise axial fan.you can rapidly reduce | noise level of working space and highly increase comfort level. Refrigeration capacity of this series covers from 1.2KW to 114KW  .fitting fir different refrigerant such as R134a,R404A .R507A . R407 .C.R22.
Characteristics
♦Scientific structure , high efficient , frost steadily , save power and low running cost ;
♦Equip with axial fan quiet models that offer strong air flow in long shot rang ; save power, long service life ;
♦Copper pipe thickness can reach to 0.6mm. which lead to perfect tightness between pipe and fin after expansion processing,
♦Equip with stainless electric heater in high insulating property,defrost efficiently in shot time i
♦The heat exchanging coil was did gas tightness test under 2.6MPa air pressure, to guarantee quality.
♦Aluminum and painted stain board, to meet your different
needs.
Sphere of application
♦High temperature type: (cold room temperature 12-2″C)fin space: 4.5mm;
♦Medium temperature type: (cold room temperature -2℃ — 1 0 ℃)) fin space: 6.0mm;
♦Low temperature type: (cold room temperature– 10〜-3 1℃ )fin space: 9.0mm;
Technical data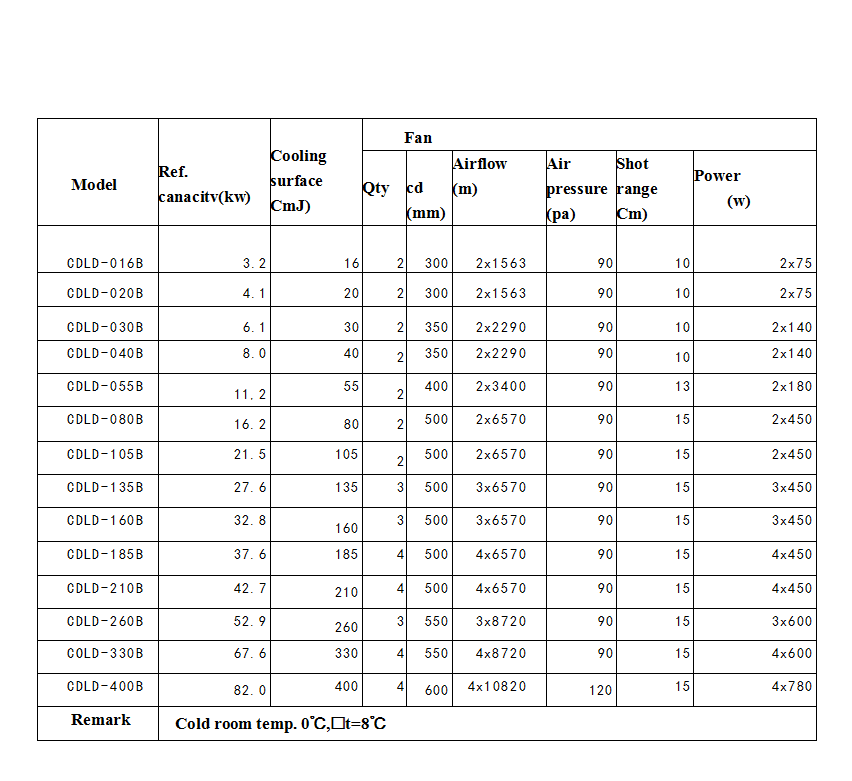 ---
---
---
Send your message to us:
Write your message here and send it to us