Freshwater Flake Ice Machine
Product Detail
Product Tags
CSCPOWER Flake Ice Applications:
Flake Ice: Irregular ice flakes with size about 40x40mm and thickness around 1.5-2.5mm. Application Fields: supermarket, meat processing, food industry, seafood processing. Concrete mixing plants, chemical plants, mine cooling, skiing ground, medicine, aquatic food and so on. ice after connect water and electricity.
Installment: All equipment is installed on one steel frame except the cooling tower so it's very convenient to install on spot and it can be put into use immediately after connecting it with the water and electricity resource. Ice machine with air cooled condenser or evaporative condenser is ready to make ice after connect to water and electricity.
CSCPOWER Ice Machine Advantages:
A.Ice flake produced is 2.2mm in thickness, dry and powderless, and the ice temperature is between -5℃ to -8℃.
B.The material for the ice maker is special carbon steel, which has using life up to about 18 years.
C.Special internal ice-scraping mode and patented ice blade can still produce ice normally even in atrocious environment.
D.Automatic monitor without operator. Often maintenance is unnecessary, which can save much manpower and material.
E.Safe and energy saving. It can utilize the vessel's own power and the ice would be out after running for 3 to 5 minutes. The product quality meets the international criteria in the same trade.
Sample Product Descriptions-5Ton/day Freshwater Flake Ice Machine:
F50 ice machine part list

Item

Brand

specifications

Material

Origin

5000kg / 24h Flake Ice Machine

一

Ice making system

1

Ice maker evaporator

CSCPOWER

F50S

 

FUZHOU

2

Reducer

GONGJI

 

 

Taiwan

3

Water pump

CSCPOWER

 

 

FUZHOU

4

Automatic full ice controller

ROKO

MF-5KP2

 

Taiwan

5

Level Switch

Fine Tek

 

 

Taiwan

6

Metering pump

NEWDOSE

 

 

US

二

Refrigerating system

1

Compressor

Bitzer

6HE-28

 

Germany

2

Oil separator

ALCO

 

 

US

3

Water cooled condenser

 

 

 

China

4

Cooling water circulation pump

 

 

 

China

 

Cooling tower

 

 

 

China

5

Dry filer

ALCO

 

 

US

6

Solenoid valve

Danfoss

 

 

Danmark

7

Expansion valve

ALCO

 

 

US

8

Liquid receiver

Fasike

 

 

China

9

Low – pressure switch

Danfoss

 

 

Danmark

10

High - pressure switch

Danfoss

 

 

Danmark

三

Control system

1

Automatic Control System

LG

 

 

Korea

2

AC contactor

LG

 

 

Korea

3

thermal relay

LG

 

 

Korea

4

Air switch

LG

 

 

Korea

四

Ice storage system (NEED EXTRA COST)

1

Ice storage

CSCPOWER

CBK-2500

 

FUZHOU

2

Ice shovel

CSCPOWER

IS-1

Engineering plastics

FUZHOU
Sample Product Parts Introduce: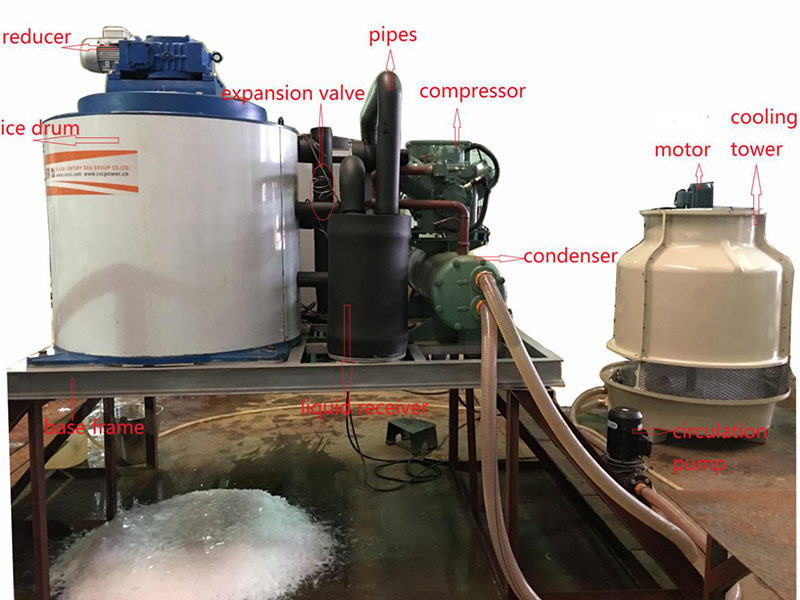 ---
Previous:
40ft Solar Cold Room
---
Send your message to us:
Write your message here and send it to us